You are hereJon Santos's blog
Jon Santos's blog
---
Been a while since I had a chance to add to the website. First off thank you to all of our student's all of our Parents that help out. Team Santos Jiu Jitsu is what I like to call my #jiujitsufamily. I never got into teaching to make $.Kids asked for help garage gym was created 2006 been teaching people ever since. Came out to San Ramon over 12 year's ago taught my program at Harding tae kwondo later going solo.
A question I get asked a lot is whats the secret to get better fast at #BJJ .I always tell people the secret is "Not giving up" If you were to walk into pretty much any school and find some of the top People there .If you asked them about their travel to that point in Jiu Jitsu "How did you get good" most would answer "Training lot's of training" showing up when many stayed home or went out. Double day's ,taking notes,asking questions,entering tournaments,Healthy living ,Diet,exercise,stretching,yoga,journal etc. All could be answer you receive.
I've been training 22 years now I started teaching people back in 2005.Things have changed and I can say that I am very Humbled by all of our #Jiujitsufamily I've really enjoyed watching people change for the positive.Kid's and Adults becoming better at martial arts. I push for the kid's to help each other never leave anyone behind. The Adult class reminds me of a throw back to the original Cesar /Ralph Gracie gym.Everyone goes for the tap the finish but after they are Respectful and Friends.
Team Santos Jiu-Jitsu Opens a New Location in San Ramon
Jon Santos announces the opening of a new San Ramon, California location for Brazilian Jiu-Jitsu classes.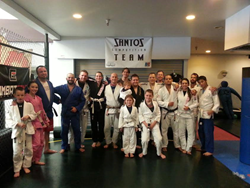 "Students who come in with a positive attitude and commit themselves to hard work can become very talented quickly."
San Ramon, CA (PRWEB) October 28, 2014
Jon Santos, along with Team Santos Jiu-Jitsu, are excited to announce the opening of their new gym in San Ramon, California. The gym will be having classes six days per week and is offering a promotional special to celebrate their new location. New students will receive one week of classes for free.
Jon Santos, the founder and teacher at the gym, has trained in Brazilian Jiu-Jitsu for 19 years. He has seen firsthand how students improve and develop amazing skills if they simply dedicate themselves to consistent practice. He explains, "Students who come in with a positive attitude and commit themselves to hard work can become very talented quickly. I've seen even students who felt they had no real skills for this type of martial arts, come in and become pros in no time. It just takes consistency, focus and determination."
In addition to the one free week offered to new students, Team Santos will also be starting a Referral Program. Those who refer a friend (who eventually signs up), will receive a free month of classes or a free GI.
Two other instructors will add their training and experience, Jay 'JJ Machine' Santos and Chris Glynn. Jay is a purple belt who started training in Jiu-Jitsu with Ralph and Cesar Gracie over 18 years ago. He holds multiple gold and silver medals from the U.S. Open & the Gracie Open. Chris Glynn is the Muay Thai Instructor and he has 16 years of experience in Muay Thai kickboxing. He currently trains at Old School Boxing Gym in Concord, Ca.
Jiu-Jitsu is a very effective self-defense discipline that offers good opportunities for physical work-outs, plus incredible fighting techniques that can give a smaller opponent the edge. Once Jiu Jitsu is learned and perfected, an individual has better mental strength, physical endurance and enhanced cardio conditioning. The work-outs burn fat and help improve health and fitness.
Brazilian Jiu-Jitsu is a Mixed Martial Art that originated in Brazil and Japan and uses ground fighting and grappling skills. It is open to all ages and both genders. Please visit their Facebook page: https://www.facebook.com/TeamSantosJiuJitsu
For more information, visit the website: http://teamsantos.com
About Team Santos:
Team Santos Jiu-Jitsu was founded by head instructor, Jon Santos who is an original old school member of the Cesar Gracie Graciefighter Team. He has over 19 years of experience. Classes are open to interested students at all levels. Cost is $80 per month for 2 classes per week and $95 for unlimited classes. The first week of training is free, no obligation and there are no long term contracts. They serve San Ramon and all surrounding areas
For the full article please see:
http://www.prweb.com/releases/2014/10/prweb12285035.htm


I have trained Brazilian Jiu Jitsu for almost 19 years.I have seen first hand the real secret how people become better,average or stay the same.I have learned that hard work wins vs talent.Too many times I have seen talented BJJ,MMA
People that show up to train get better period.I have seen a lot of talent while training Jiu Jitsu since 1995 some have made it to the next level David Terrell,Gil Castillo,Nick Diaz,Jake Shields,Nathan Diaz,Gilbert Melendez to name a few who became stars.
The sad part about it is those few examples are very rare!Many more with physical gifts Speed,power gave up pushed their chair back and walked away.
● Direction ● Confidence
● Fitness ● Self-Esteem
● Coordination ● Self-Defense
Direction: participating in Brazilian Jiu Jitsu learn how to set goals, the knowledge necessary, and to do the work needed to achieve them. BJJ is a structured program with belts and patches acknowledging personal achievement. Belts display both effort, time, and experience in training. Each belt has tested requirements (skills/knowledge/exp) in order to be promoted to the next belt level. You become aware of the requirements and are encouraged to set goals, and work toward their achievement.
Carlos & Helio Gracie
Brazilian Jiu-Jitsu is a martial art, combat sport, and a self defense system that focuses on grappling and especially ground fighting. The art was derived from the Japanese martial art of Kodokan judo in the early 20th century,[1][2] which was itself developed from a number of schools (or Ryu) of Japanese jujutsu in the 19th century.